Camp Amicus Day Camps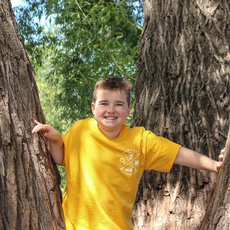 Adventure Day Camp
nature-based day camp for campers entering Grades 3 - 9
Resources on this page
For children entering grades 3 - 9, campers at Adventure Camp will have opportunities to learn and practice age-appropriate social skills, peer relations & problem-solving in a nature-based setting. Mature, caring counsellors plan activities to ensure that campers build confidence and self-esteem while having a great time!
With only 24 campers and a 3:1 ratio of campers to counsellors, participants are able to get individualized attention.
Dates
Grades
Entering
Program
Fee
FSCD
Eligible?
# of
Days
Camp
Code
Mon. July 12 - Fri. July 23
5 -6
$850
Yes
10
AC1
FULL*
Mon. July 26 - Fri. Aug. 6
(no camp Aug. 1)
7 - 9
$780
Yes
9
AC2
FULL*
Mon. Aug. 9 - Fri. Aug. 20
3 - 4
$850
Yes
10
AC3
FULL*
*FULL - We are accepting applications for the wait list
Activities Offered:
Swimming, canoeing, Forest Games, Swimming, Canoeing, Archery, Crafts and more, Campfires, Social Skills and More!
What will the campers be doing?
Camp Amicus Day Camps take place in Bragg Creek from 9:00 am to 4:00 pm Monday to Friday for two-week periods and are based out of Kamp Kiwanis. The camp focuses on teaching and reinforcing social skills in a fun and safe environment while integrating a nature-based experience - canoeing, swimming, archery, having campfires, and spend time in the expansive forest at Kamp Kiwanis.
Social skills taught include goal setting, friendship building, bullying, social problem solving, de­escalating conflicts, conversation skills, body language, and blowing off steam. Social skills for campers entering grade 7 – 9 also include digital communications and building healthy relationships. We implement social skills lessons throughout the course of the camp during explicit lesson periods and throughout the rest of the day with low ratio social coaching when the campers are engaging in regular camp activities. Real ­life situations provide opportunities for practice and reinforcement of the skills learned.
Camp Goals:
The goals of Camp Amicus are to increase the campers' self-esteem, make friends, learn social skills, have a ton of fun and make lasting friendships! Camp activities may include swimming, horseback riding, games, crafts & more!
Intake Criteria:
Children entering grades 3 to 9 can attend Camp Amicus Adventure Camp. All campers must meet our Intake Criteria.
Location:
Drop-off and pick-up are at Kamp Kiwanis in Bragg Creek. Please note that transportation is not available for this camp.
Dates and Time:
Camps take place Monday to Friday for two week periods from 9 am to 4 pm. Day camp is not offered on statutory holidays and the fee is adjusted accordingly.
Before and After Care:
Before and After Care is offered on-site at Kamp Kiwanis from 8 am - 9 am and from 4 pm to 5 pm each day. The cost is $5/day for each (ie. if you use both Before and After Care, the charge is $10 per day).
Cost:
The fee for Adventure Camp is $780 or $850 depending on the camp chosen (see chart above for schedule). The fee is eligible for FSCD funding. We are able to bill FSCD directly for camp fees.
Registration Process:
Once it is determined that your child is eligible to participate in Camp Amicus, you will be sent registration forms. The completed registration form and a $100 deposit are necessary to secure your child's spot in the camp.
Camp Amicus 2021
The above information is tentative. Final details about Camp Amicus programs 2021 will be determined based on Alberta Health Services guidelines regarding COVD-19. All program information will be confirmed and registration will open in February 2021.