Camp Amicus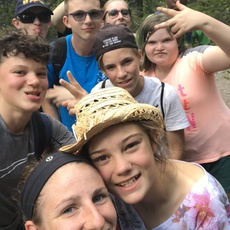 POLARIS Teen Leadership Camp
Personal Opportunities for Leadership, Activities, Recreation, Inclusion and Social Skills for 13 - 18 Year Olds
Schedule
PO1 - Entering grades 7 - 9 $900 (M - F) 10 days FULL - Accepting applications for the wait list

PO2 - Entering grades 10 - 12 $1,200 (M - F except no camp on Monday, Aug. 3) 14 days
Resources on this page
Our teen leadership programs are centred on the development of independence, post-secondary and job readiness skills.
What will POLARIS campers be doing?
The first part of this program is spent working on group dynamics and teaching skills in preparation for a mandatory multi-day/night hiking trip. The goal of the hiking trip is to develop independence skills within program participants.
After the hiking/camping trip, the final week of the program is based out of Foothills Academy. Morning sessions focus on personal development and job preparedness. The afternoons are spent volunteering as a group at different facilities (i.e., the Calgary Food Bank).
There are two separate sessions of POLARIS. One is for younger teens who are 13 - 15 years old (two week program) and the other is for older teens 16 -18 years old (three week program).
Camp Goals:
The goals of Camp Amicus are to increase the campers' self-esteem, make friends, learn social skills, have a ton of fun and make lasting friendships! Our POLARIS teen leadership program is centred on the development of independence, post-secondary and job readiness skills.
Location:
This day camp is based out of Foothills Academy except for the overnight hike portion of the camp. Bus transportation is provided for the hike.
Intake Criteria:
Teens 13 - 18 years can attend Camp Amicus POLARIS Leadership camp if they meet our Intake Criteria.
Please note that both prospective and returning participants will be interviewed to ensure their fit for the program.
Dates:
Camps take place from Monday to Friday from 9 am to 4 pm except for the overnight hike.
POLARIS I for teens entering grades 7 - 9 is a two-week (Monday - Friday) program.
POLARIS II for teens entering grades 10 - 12 is a three week (Monday to Friday) program.
Cost:
The fee for POLARIS I (two-weeks) is $900 and POLARIS II (three-weeks) is $1,200. This camp is eligible for FSCD funding. The fee is eligible for FSCD funding. We are able to bill FSCD directly for camp fees if we receive confirmation of funding by June 12, 2020.
Registration Process:
Once it is determined that your child is eligible to participate in Camp Amicus' POLARIS program, you will be sent registration forms. The completed registration form and a $100 deposit are necessary to secure your child's spot in the camp.
Camp Amicus 2020 registration will open:
January 6 for returning campers
January 20 for new campers
For new and returning camp families. Come and learn what Camp Amicus is all about through a short presentation and a question and answer period.
The best part of POLARIS was on the last day of our camping trip. The counsellors stepped back and had us lead each other. It was great. I liked having all of the other teens be so accepting of me and each other. The counsellors were great and I made some friends.