Amicus Recreation Programs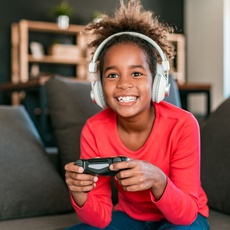 Gamers Paradise
Play video games and practice social skills at the same time (Gr. 4 - 9)
Online Program
Resources on this page
We are so excited to launch our first ever Video Games program! This program will be a unique and new program we are piloting that will integrate collaborative video games with social skills such as communication, problem-solving, and friendship building. We have intentionally chosen video games that are non-violent and collaborative in nature and have mature and especially skilled staff who will be leading the program.
Young people are invited to join us Online! We will be playing Minecraft, Rocket League and more in our new pilot video game program which will integrate social skills from the online program into real life and help bridge the gap for our participants between the two. Spend time working collaboratively with others mastering their favourite games, making friends, and doing what we all love - PLAYING VIDEO GAMES!
Intake Information:
If your child has not participated in an Amicus or social skills program through Foothills Academy before, a Parent Intake Form must be completed. To begin the intake process, contact the Community Services Intake Assistant at 403-270-9400 ext. 252 or download the Parent Intake Form and send it in.
Groups Size Limit:
If the session indicates that it is full, we will accept names for a waitlist. If there is sufficient interest, we will try to offer multiple groups.