Parent & Community Workshops (In Person and Online)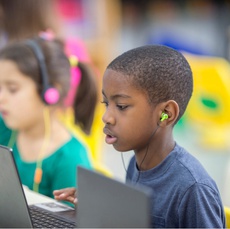 Assistive Technology in the Classroom
What Parents Need to Know at Home
Schedule
Thursday This workshop will be delivered online via Zoom
Assistive Technology is an effective accommodation for many children with learning disabilities. Using Assistive Technology in the classroom in an effective manner can help students become more confident and independent learners.
The following Assistive Technology will be covered:
Dragon Naturally Speaking
Read&Write
Scanning Pens
Smart Pens
Free options for Speech to Text, Text to Speech
Mind Maps
All information will be shared in an interactive format with a focus on the software settings and coaching strategies to make the most effective use of these programs for your child/student at home. Google Basics will be covered for parents to feel confident when helping or troubleshooting with their children at home.
Target Audience
Educators, Parents, Family Members
Presenter: Cathi Graveline
Cathi Graveline is an Assistive Technology Specialist who worked at Foothills Academy for 18 years working with students with Learning Disabilities. She specializes in teaching and mentoring students in the use of assistive technology accommodations, such as: Dragon Naturally Speaking, Dragon Anywhere, Read&Write, Google Suite, Smartpens, and more. Cathi is dedicated to helping ​students become successful learners whether it's in a one-on-one setting, in small groups, or as part of an entire classroom. Cathi is a Certified Google Educator (Level 1), an Apple Certified Support Professional 10.12, and an Apple Teacher for ipad.