Parent & Community Workshops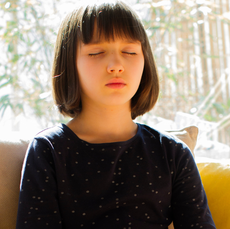 Community Education: Mindfulness
Supporting Your Child's Social and Emotional Well-Being using Mindfulness
Schedule
Dr. Dittrick invites you to spend an evening learning about mindfulness, the benefits of mindfulness, and how mindfulness is linked to the brain.
This session will review the concept of mindfulness and explore how mindfulness strategies can be used to support your child's social and emotional wellbeing and mental health. We will discuss how our brain influences our thinking, emotions, and behaviour, including how our brain's stress responses (fight, flight, or freeze) may impact our mental wellbeing. This session will explore how we can use mindfulness to calm our brain. Through an interactive and experiential format, participants will learn various mindfulness activities and strategies that they can use with their children. The practise of mindfulness in children and youth has been linked to better focus in school, improved self-awareness, increased ability to self-regulate, building relationships skills including compassion and empathy for others, decreased stress and anxiety, and an improved overall sense of well-being. The intention of this session is that you will leave this session with a toolkit of mindfulness strategies that you can use with your children.
Speaker: Dr. Crystal Dittrick, Dittrick Psychological Services
Dr. Crystal Dittrick is a Registered Psychologist and a Canadian Certified Counsellor (C.C.C.). She received a Ph.D. in Counselling Psychology from the University of Calgary, an M.A. in Counselling Psychology from the University of British Columbia, and a B.A. in Psychology from the University of Lethbridge. Dr. Dittrick works as a Psychologist with a local school board and has a small private practice. She provides psychological services to children, adolescents, and families within educational and mental health settings. She also facilitates various professional learning opportunities for school staff, community partners, and parents. Dr. Dittrick's clinical, educational, and research focus has been in the areas of child and adolescent mental health, peer relationships, bullying, social-emotional learning, and mindfulness. She has presented at various Canadian schools and parent education sessions, as well as national and international conferences, and written peer-reviewed articles.