Child & Youth Group Programs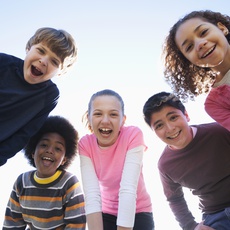 Let's Be Social
An Introduction to Social Skills for 8 – 12 Year Olds
Schedule
Saturdays - No Class Feb. 15

Saturdays - No Class May 16
Resources on this page
Difficulties with social skills can interfere with a child's ability to make and keep friends. Many children with Learning Disabilities and ADHD have difficulty learning social skills intuitively. But, they can learn if they are explicitly taught and have opportunities to practice these skills. Our main focus is to assist in the development of social skills which will also helps build self-confidence and self-esteem. We do this in a structured and supportive small-group environment that allows for fun and learning!
The Let's Be Social program is specifically designed for children with Learning Disabilities and/or ADHD to teach social communication, friendship and problem-solving skills. The program is delivered by a Registered Provisional Psychologist (supervised by a Registered Psychologist) who is assisted by Social Skills Counsellors. Additional components of this program are a parent session held on the first day of the program, optional weekly educational videos, weekly activity suggestions for parents and teachers to reinforce the concepts learned at home and at school. A progress report is sent home to parents half-way through and at the end of the program to report on their child's progress.
In order for your child to gain the most from the program, parents must be prepared to reinforce the concepts learned at home. In order to assist with this, there is a two-hour session for parents on the first day of the program to review the concepts being learned by the children during the program. Additionally, the facilitator sends out an email each week to parents with a summary of the lessons taught on each Saturday and suggested activities that can be implemented in the home (note: these emails are not specific to the individual child). An additional weekly email is sent to the child's teacher with activity suggestions for the school environment.
Topics covered:
Setting Goals
Reading Feelings
Conversation Skills
Friendship Skills
Problem-Solving
Dealing with Strong Emotions
Dealing with Bullying and Teasing
Positive Self-Talk
Note: Parents should be aware that general discussion about the various diagnoses and their related challenges may come up during the course of the programs.
Cost:
$600 (Program fees may be claimed as psychological fees and/or a medical expense on many private benefit packages. Program may qualify for FSCD funding. Bursaries may be available.) There is a non-refundable $100 dollar deposit for the program.
Intake Process: If your child has not participated in an Amicus or social skills program through Foothills Academy before, a Parent Intake Form must be completed. Please note: the intake process can sometimes take one to two weeks, as we want to ensure that we can meet the needs of all the children in our program. It is ideal to begin the intake process, well before you intend to register for programs, to ensure availability.
Registration Overview: After the intake process is complete, you will be sent the registration form package. If your child has already participated in Camp Amicus or Social Skills programs through Foothills Academy, contact our Intake Coordinator (403.270.9400 ext.252) to register your child.