Read / Write & Math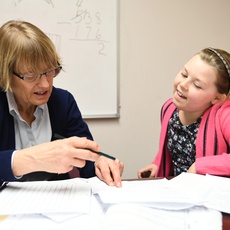 Math Instruction
Our math instruction program offers a remedial math program for individuals six years of age or older.
We aim to fill knowledge gaps before working towards grade level materials in the Alberta curriculum. We help clients increase understanding and identify relevant strategies. For example, Chisanbop math (Korean finger math) is sometimes taught as a specific strategy for calculation. All lessons are taught one-to-one with the same instructor (whenever possible).
Math Program Options and Costs
During the school year, lessons are offered on Saturdays or after-school. We also offer lessons during school holiday times during Christmas break, Spring break (public and Catholic boards) and the summer.
Each lesson is 1 - 2 hours with a minimum commitment of 10 lessons with an option to renew. Each lesson is $55 per hour.
We also offer Math Assessments. The Pre-assessment gives an academic skills "snap shot" which helps us determine the functioning grade level of the student, details the learner's strengths and challenges and makes recommendations for remediation. The fee is $275.
Intake Criteria
Individuals 6 years of age or older who are struggling to attain numeracy skills. No formal diagnosis necessary. All programs require the completion of an intake package to ensure a good fit between the participant and program.
"I am indebted for your teaching my daughter to read, improving her writing skills and giving her tools to use forever, and for giving her more confidence and knowledge in math."