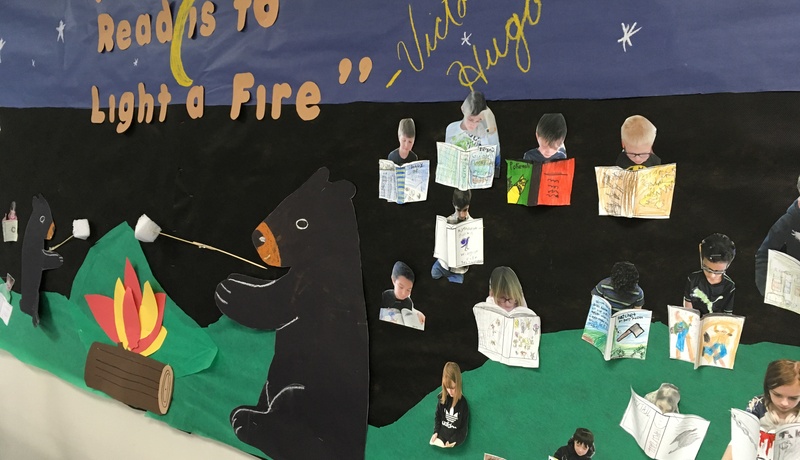 Every year in the month of February, we encourage our students to "fall in love with reading"! We feel it is important to make literacy more visible and to communicate its high priority. For many of our students, reading at school is the only time they read. We want all of our students to see themselves as readers, and to know that all of their teachers, assistants and support staff along with parents welcome them into our reading community to discuss, recommend, and share books.
The research is overwhelming in its claims to the immense benefits of reading voraciously for both personal satisfaction and academic success! With many of our students facing disabilities related to reading, we need to put every effort forward to cultivate positive habits of mind around reading and be purposeful in building a wider-reading community.
Efforts were made to involve students throughout all the grades to participate. Activities during February included:
National Read Aloud Day on February 1st
Students Reading their Favourite Books Photos - Students completed a book template drawing/displaying their favourite book. Our Photography students took photos of students in a "reading pose". These photos were displayed around the school to share what we love to read.
Classroom door decorating contest
Weekly school spirit days and mystery readers. We had Twins day based on Frog & Toad; Crazy Socks Day based on Fox in Socks; Pajama Day based on Llama Llama Red Pajama
Guest Reader - Our former ED Gordon Bullivant read Dr. Seuss' Oh the Places You'll Go to some of our youngest students. He also provided some history of Foothills Academy for the students as we are currently celebrating our 40th anniversary.
Our biggest event was Camp Read S'More on February 20th. This involved the whole school. It was great to see so many parents come out, especially our junior high parents! Many families really loved the adventure of using a map to go to different stations around the school. Some of the favourite stations were the "reading under the stars" in tents by flashlight and eating s'mores. Other activities included writing something creative together (camp stories/soil analysis with the creation of a "worms and dirt" dessert); oral language activity (campfire songs); "make and take" something to use at home (comprehension cootie catchers or story blocks); and, giant bananagrams or game of scrabble in the hallway. Students and parents also had a chance to learn about family literacy in the community and sign up for their own library cards with representatives from the Calgary public library. Many kids and families commented that there were so many stations that it was hard to choose. The photo booth was a nice addition to capture this event!