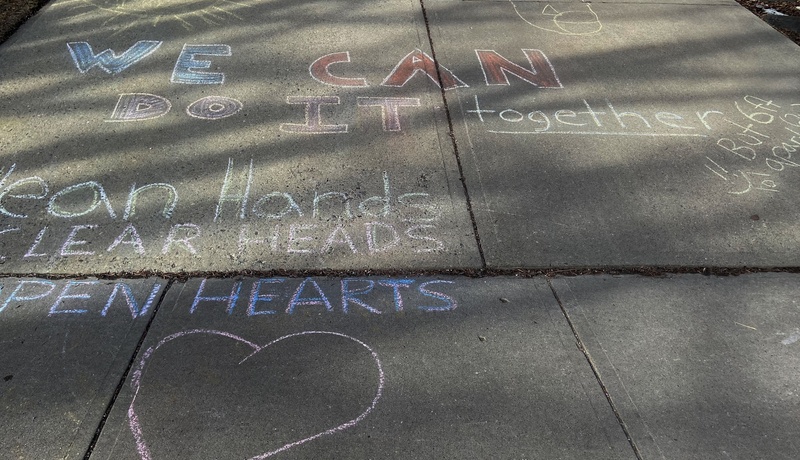 It is hard to believe, but we are a month into physical-distancing.  I have found that (like anything in life) there are associated challenges and joys in this unexpected situation.  I hope you have too. As we are all getting oriented to this new way of being, it can be helpful to look past how we can 'cope' with the circumstances, and look at how we are actually fostering resilience in ourselves and our children.
"The struggle you're in today is developing the strength you need for tomorrow." (author Robert Tew)
Consider how you can take advantage of this time to strengthen your family's mental health in the long-term. Reflect on how your family can shift the focus from 'surviving' to 'thriving'. This challenge will look different in every family, but below are some ideas you may want to try.
Q. How can we capitalize on this time as a family to strengthen our mental health together?
A. Healthy thinking patterns take practice. Just like building muscle, we need to work on thinking positively in order get mentally stronger. Here are some ways:
Challenge everyone in the family to give each other a daily compliment. It can be something big or small, such as "Thanks for letting me go first". We can actually make ourselves happier when we train ourselves to look for the little positives throughout our days.

Find a way in which your family can focus on supporting other people. Helping others helps us. Check out Propellus: volunteer opportunities for COVID-19

Help challenge the black-and-white thinking that can lead to anxiety and depression. Have a family discussion about the 'pros' and 'cons' of physical-distancing.

Celebrate each other's differences. Dedicate a time for each member of the household to determine a group game/activity/discussion of their choice.

Make yourself a cup of tea and listen to a free webinar focused on supporting YOU, such as: Mental Health and Resilience during COVID-19 or Working From Home during COVID-19.

When we regularly practice regulating our thoughts and emotions, we are more able to do it when we really need it: free stress-reduction audio exercises for adults and kids.

Find fun ways to teach kids about being in control of their brain through: Imagine Action or Mindfulness games for kids
Q. My child actually seems quite relieved to be at home, because they are typically anxious about school and/or in social situations. Is that a good thing?
A. Yes and no. We have all had a large and unexpected disruption to our lives, and it is reassuring to be in an environment that feels safe and comfortable. However, if our kids are usually anxious, the current circumstances may have actually led to LESS anxiety over the course of their day. That is because anxiety encourages avoidance. And, right now there are a lot of things we cannot do, such as going to school, or navigating social dynamics in-person – so we are avoiding things that may usually challenge us.
For kids (or adults!) who are having this experience, it is helpful to acknowledge it and consider how it can be valuable for the long-term for us to still challenge ourselves a little each day. Knowing that we can survive an uncomfortable situation, and even grow, this is how we build resilience. We want to ensure that when our young people go back out into the real world, they are ready to thrive. Here are a few examples:
If your child or adolescent shies away from initiating contact with other kids, encourage them to reach out to one person a day. Acknowledge that it may not turn out the way they want, but the goal is to give it a try!

A family talent show is a great way to model for your child that it is possible to go out of your comfort zone, survive, and have a good laugh at yourself.

Pick a new skill to try that is not easy, and requires some persistence over time.

When on a walk, challenge the young person to say "hi" to a stranger.