What's happening at Foothills
Weekly Wellness #3 - Gearing Up for School & Finding a Balance When Everyone is at Home
Published:
April 3, 2020
10:42 a.m.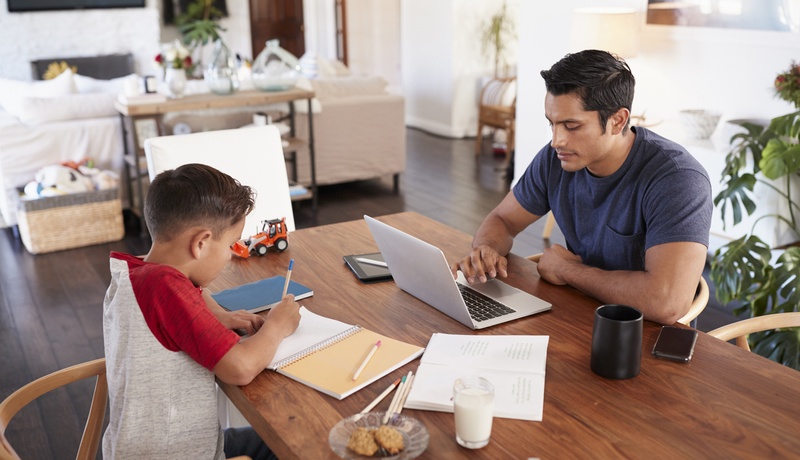 Some families started back to school this week after an extended break and others are just getting back to school next week. Regardless, we are all just beginning to navigate this new world of online/distance learning. With school resuming, there is more need for structure in our days, which can also be good for our mental health in the long run. Here are some things to consider so you can set your household up for school success.
Q. How should we be getting geared up for school?
A. Here is a checklist of things to consider:
If you haven't already, use the next couple of days to get your student(s) back into a regular sleeping schedule. Revert back to regular bed and wake times to decrease the morning struggles when classes resume.
Even though school will be at home, it is important to agree on a general structure for each weekday. Involve your student(s) in creating a general schedule that is visible to everyone, which includes some basic expectations (e.g., get dressed and eat breakfast by 8:30; get daily exercise; reach out to a friend each day; eat lunch and dinner together as a family).

Ensure your plans account for 'transition time' between expectations, and agree on activities that students can do on breaks.

Identify a dedicated workspace in your home where your student can set up a space to "go to school". Ideally, this is a different space from their bedroom, but if it is in their bedroom, encourage your student not to work on their bed. Remove distractions from the space, and gather up school supplies (e.g., clock, paper, computer, headphones, pens, pencils, binders, textbooks, files).

Set up expectations for phone and social media use during the school day.

Ensure your student has a sense of autonomy in their day. Plan for them to set up some of the details of their schedule (e.g. choose the order of activities) each morning, and ensure there is 'free-time' built into their schedule.

Many of our students also have ADHD diagnoses (and even if they do not, there are some great tips in here!), watch this video together as a family: how to work from home

If your student takes ADHD medication, make sure that they are taking it again regularly (if they haven't already been doing so during the break).
Q. How do we find balance when we are spending all day together every day?
A. Every family is different, but here are some factors to consider when you think about what you want your days to look like:
Is there a balance between family time and individual time?

Does your student know how to be independent? Help them make a list of activities, such as reading a book, listening to music, playing an instrument, journaling, drawing, playing video games, watching a show, or taking a bath, etc.

Is there movement/outdoor time built into every day?

Does everyone have a clear role to play in household chores?

Is there an opportunity to be creative (e.g., draw a comic; play an instrument; build a model; try a new recipe; or start an art project) each day?

Is there a daily reminder to connect with others (this could be by phone, video chat, FaceTime or WhatsApp)?

Is there a clear expectation for all family members to stop school work/work by a certain time each day?

Is there something unique to each day of the week, that helps to keep the days separate and provide something to look forward to? Have a family meeting to identify a plan (e.g. Mondays is family monopoly nights).
Looking for interesting learning activities?
Looking for ideas for breaks and transitions?
Younger kids will enjoy: GoNoodle
Make a healthy snack together
Walk around the block
Play with a pet
Call a family member or friend to check-in
Pick a 5-minute movement breaks (e.g. skip; run up and down the stairs, or dance to two songs)