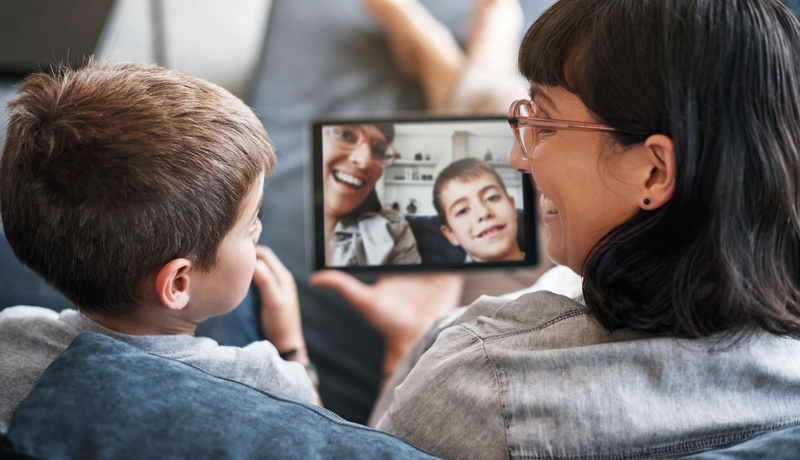 Connection is key to our mental health and happiness, but connection is looking a bit different these days! We are all trying to create a 'new normal' in our homes, while coping with the loss of our typical daily routines. With so much more free-time suddenly on their hands, we need to be cautious of how our children and adolescents can get stuck on devices for many hours each day. Since we are all trying to do our part to stay at home more, electronic platforms can play a uniquely valuable role in helping us stay connected to the outside world. However, we also know that there are some pitfalls to avoid when making decisions about the use of technology. Below are some Q & As about navigating all types of screen time in your home.
Q. How much screen time should I allow my child to have?
A. Not all screen time is equal! Since we are all stuck inside while 'physical distancing', we do not need to feel too guilty about tech time; it is less about quantity and more about quality.
While many of us are relaxing our usual rules about screen time right now, we do want to make sure:
that technology is being used for a variety of purposes, such as educational games; physical activity; social connection; and creative pursuits such as recording a song.

that some of it occurs with other members of the household, e.g., a family movie night or video game challenge.

that the content is safe and age-appropriate. Common Sense Media is a great resource for parents to make informed choices for their kids, with age-based ratings and reviews of movies, TV shows, books, apps, etc… Here are a couple of their recent articles on how kids can connect online:
that they have balance over the course of each day, e.g., no screens at dinner time; dedicated time for reading a book; and getting outside.
Q. How do I know when screen time is becoming unhealthy?
A. Sometimes the things we are drawn to do not actually make us happier. Social media can be very compelling, but over time it can also make us feel bad about ourselves. Too much time on solo games or mindless scrolling can actually make us feel more alone.
Here are some factors to consider:
Do the peers your child connects with (or follows) make them feel good, share common interests, and put effort into connecting? Having more followers does not necessarily mean greater connection.

Have them notice their feelings when using different platforms. Do they feel overwhelmed, anxious, sad, or defeated?

What are they missing in their day due to the amount of time they are on screens (e.g., exercise; family time; contributing to household chores)?

Are they posting, messaging, playing games, video-chatting, OR are they mindlessly scrolling? Passive social media use, such as scrolling, can fuel comparison instead of connection, and it can also expose kids to a lot of stressful news.

Have your child explain to you what they are interested in looking at, why they like it, and how it meets their needs. Check out these Hottest Social App Trends for Teens
Q. How can I help my child/adolescent use screen time in healthy ways?
A. Here are some strategies you could try:
Modelling healthy behaviour is key. Establish technology-free zones in the house and technology-free hours where no one uses technology. And, it can be helpful for adults to acknowledge that it is difficult!

Set-up specific screen-time settings on phones/tablets that limits app use, or those that allow you to control wifi to specific devices (like Shaw's Blue Curve).

Have them set a reasonable goal around the amount of time they want to spend on social media. They can then monitor this themselves with a screen-time tracker.

Some children/adolescents struggle to stay connected with others and they need a nudge to take a chance on connecting with others. Dedicate specific times during the day for reaching out to friends, classmates, or relatives online, and have them enter these times into their daily schedule.

Keep phones and tablets out of bedrooms at night for undisrupted sleep.

Have ready-made messages for friends/peers when busy and/or needing to set boundaries, e.g. "Sorry, it is dinner time and I can't talk right now, I will message you later tonight."

Continue to encourage an open dialogue with them around what online platforms they are using. 5 tips for navigating children's screen-time during social distancing
Looking for fun ways to connect with friends and family outside the household?
Take a break, and play a quick game on your phone with a friend GamePigeon

Set up a game-night! Sites such as Pogo.com allow you to play some family favourites such as monopoly or yahtzee virtually with friends. Or for older children (12+) and with family supervision get the Houseparty app which allows you to video chat while playing games such as pictionary or trivia.

Grab the popcorn and host a movie night! Netflix Party is a free Google chrome extension that allows friends to watch movies together with an added chatbox.

Pen pal anyone? Teach your kids the old school way, and try writing and mailing cards and letters to family and friends.
Looking for some new ways to connect with those in your household?
Record a video together. In the past couple of weeks my daughters have made a series of funny videos about the family dog that have led to hours of giggling, and some very happy grandparents who were sent the final product.

Go camping! At home that is. Grab the tent, sleeping bags, and marshmallows and set it up in the living room. Turn off the technology and prepare some good camping stories.

Try something new together. Take advantage of the increasing number of free online classes for dancing, cooking, crafting, and more.