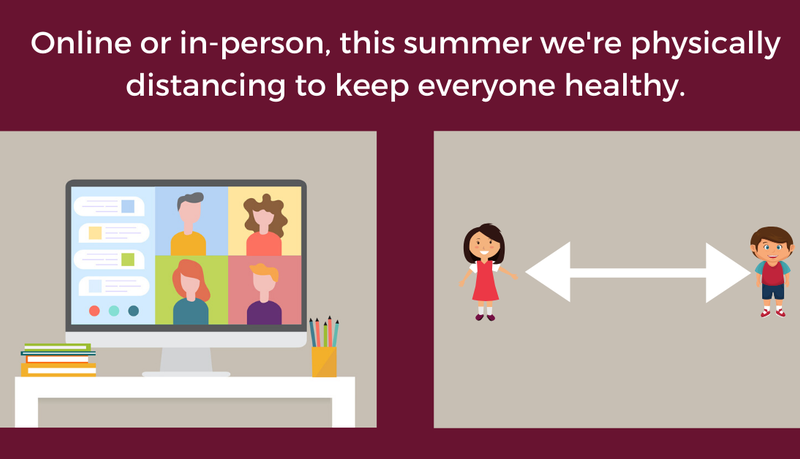 Community Services at Foothills Academy takes the safety of its clients and employees very seriously. With the two-metre physical distancing expectations and other safety requirements in place this summer due to COVID-19, we must carefully limit the total number of people in our building at any given time. Therefore, this summer we will be offering the majority of our programs and services online while prioritizing a few select offerings to be provided onsite.
SERVICES DELIVERED ONLINE: These offerings will mainly be delivered via Zoom. Counselling services will be delivered via Doxy.
SERVICES DELIVERED IN-PERSON ON-SITE: These will be delivered in accordance with the "Workplace Guidance for Business Owners" document, and other guidelines provided by the Alberta Government. For example, we will be limiting the number of people in the building; screening entrants; enforcing physical distancing guidelines, and ensuring frequent cleaning occurs in high-touch areas.
Specific information will be sent to participants accessing services on site prior to their start date. The on-site programs and services are also subject to change at any point, as per health guidelines from the province.
Specific information related to each department in Community Services is detailed below:
Psychological Services & programs
Psycho-Educational Assessments
For people who had assessments interrupted or cancelled because of COVID-19
Beginning this week, parents of previously scheduled/cancelled clients will receive email communication from the Manager inquiring as to whether or not they are interested in moving forward with the assessment for their child. We are optimistic that we will be able to start these assessments in the first week of June, with portions of the process continuing to be offered through virtual means. Protocols/procedures for on-site testing, in accordance with Alberta Health and the College of Alberta Psychologists, will be followed closely, and information regarding these will be sent to parents at the time of booking.
For people who were not previously scheduled but would like to book a psycho-educational assessment
Once previously cancelled clients have been rescheduled, we will be in a better position to indicate as to when we will be able to schedule in new clients and how long our subsequent waitlist may be. Due to the protocols we need to follow to ensure everyone's safety, we are unable to see as many clients each day as per usual, and thus it will take us longer to see our current clientele. At this point, we anticipate reopening our online intake form on Monday, July 6, 2020.
Counselling Psychology services will continue to be offered online until further notice.
Read/Write & Math
Due to health guidelines related to COVID-19, we can only have a limited number of people in our building this summer. As a result, only one of our Read/Write & Math programs ("In-person Modified Intensive for Young Learners") will be delivered onsite at Foothills Academy. The rest of the programs will be delivered online via Zoom (FAQs for online delivery).
Whether offered in-person or online, all of our programming continues to provide one-to-one remediation with a trained Instructor. Our programs are built on evidence-based practices that are customized to the student's needs. The Instructors will engage in formative assessment as they work with the student, and a summary report will be provided to you at the end of the program.
In-person Program:
Modified Intensive for Young Learners
Online Programs
Sounds Make Words (for students completing Kindergarten or higher)
Strengthening Literacy (for students completing grade 3 or higher)
Reading Fluency & Comprehension (for students completing grade 4 or higher)
One-week Literacy Booster (for students completing grade 1 or higher)
Math Building Blocks (for students completing grade 1 or higher)
One-week Math Booster (for students completing grade 1 or higher)
When Will They Be Offered?
Session A: June 22 – July 10 (no class July 1) - 3 weeks
Session B: July 13 - July 31 - 3 weeks
Session C: August 4 - August 21 (no class Aug. 4) - 3 weeks
Session D: August 24 - August 28 - 1 week
Registration Dates
Families who were previously booked to receive services this spring or summer will receive Priority Registration starting June 1, 2020. These families will receive an email a couple of days prior to the registration date, with the new Summer Registration Application Form. If the student already has a credit on file, it can be applied to summer registration.
Families who were not already registered for the spring or summer: General Registration opens on June 8, 2020, when the Summer Registration Application Form will be posted on the website.
Camp Amicus
Due to health guidelines related to COVID-19, we need to have a limited number of people in our building this summer, therefore only a small number of campers will be able to be onsite at Foothills Academy. The rest of the programs will be delivered online via Zoom (FAQ for Online Programs). We will follow all the guidelines for Day Camps as outlined by the Government of Alberta.
Online Program Options: All programs are for Campers entering Grades 4 - 8
Camp Style Group Program
Club Style Programs with Social Coaching - Art & Music
Club-style Programs with Social Coaching: Science & Engineering
How will Online Programming work for Camp Amicus?
Each program is 90 minutes and takes place at the same time (either 10:00 AM or 1:30 PM) for one week Monday to Friday. The exact schedule will be available on our website by Friday, May 22.
At the program start time, your child will log on to a private Zoom session (with a unique ID, and password) for daily programs, social skills, and social coaching in small groups. If your child has never used Zoom before, that is okay. We will be in the Zoom Rooms early (15-20 minutes) in the first week to help people get set up and understand how to use their video and audio, reactions, or the chat function.
Each group will be limited to six participants and two leaders so we will maintain our usual 3:1 participant to counsellor ratio. Each session will consist of a social skills lesson, a program themed activity, a wrap-up and debrief. We are purchasing, quarantining, and sanitizing while organizing all of the program supplies and will be doing contactless delivery to your door with everything your child needs to partake in the program. The only things we will not be sent to your door are scissors, paper and something to write with (pen, pencil, marker). Additional information (including Zoom link and password) will be provided in your "Here We Go!" e-mail about one week before programs begin.
In Person Camps: M - F, approx. 9 - 4 (exact times will be staggered a bit to avoid congestion)
Counsellor-In-Training (entering Grade 11/12)
POLARIS 1 & 2 (entering Grade 7-9 & 10 - 12)
Day Camps - small cohort (6 campers max) one week length (entering grade 4 - grade 9. The specific age group will vary by the week. The full schedule will be on our website by the end of the week.
Please note that there will be no overnight camping or field trips at any of the in-person camps.
Due to the limited number of spaces that we can provide for in-person programming, registration will be given on a priority basis.
Priority for in-person programs:
Single Parents
Families with multiple children with ADHD/LD diagnosis
Essential workers' children
Families where both parents MUST work outside the home
How will priority be assessed?
All families who meet the above criteria will be given priority for in-person program spots. Within the group of families who meet the above criteria, we will allocate in-person spots on a first-come/first-serve AND equitable distribution of in-person camp spots. Those families who do not meet the above in-person program eligibility will be considered for program places after we meet the needs of the families that meet the above eligibility.
Registration Dates:
May 25 - for families who have participated in camp in 2019 or prior
May 29 - for families who were going to be new to Camp Amicus in 2020
June 1 - registration will open up for new registrations (if any spots remain open)
If You Have Already Paid a Deposit for Camp 2020:
If you are registering for one of our summer programs, you can transfer your deposit to summer 2020 programs
If you are not going to register in one of the Camp programs for 2020, you have two choices:
Turn your deposit into a donation. You will be issued a tax receipt for 100% of the amount of the deposit that you paid.
You can request a refund of your deposit amount.
Please wait for the email that will be sent to you on May 25th to let us know your choice.
Professional Development & Community Education