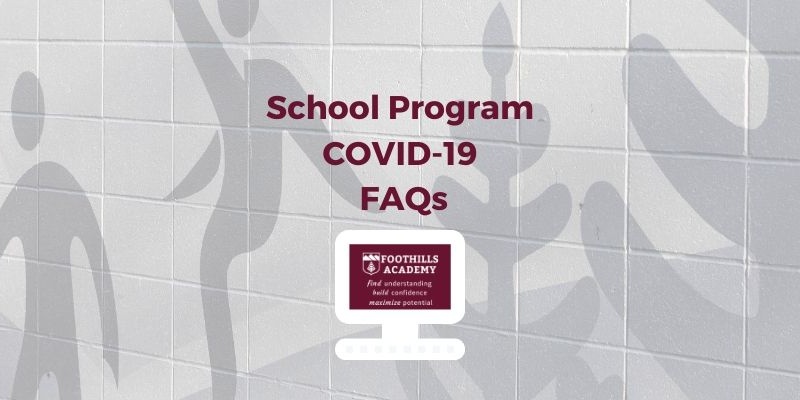 We know that this different approach to learning will generate many questions related to programming for your child, and we wanted to address some of them by incorporating some frequently asked questions (FAQs) for the time that we are having to teach our students remotely due to COVID-19. Please take some time to review the questions below:
May 26, 2020
Q. When is the official end of school for our students?
A. Your child's final school day will be on Friday June 19th. Programming will continue up the final day.
Q. My child still has items that we need to pick up and/or we have library books and devices to return. When will we have time to do this before the end of school?
A. Despite Calgary being involved in Stage One of the return to normalcy, we are still staying cautious with maintaining low levels of people in our building. That being said, if families need to pick up items they are welcome to provide advanced notice and we can arrange a delivery or items can be left for pick up at the front entrance.

We will be communicating a plan for device/library book drop off and any additional items needing to be picked up before the end of the year. The details will be communicated through our upcoming enews.
Q. When can we expect report cards and IPPs?
A. A final progress report will be digitally delivered securely to families in the week following June 19th. Families will also have an opportunity to arrange student parent-teacher meetings in the remaining two weeks of June. Dates and times will be provided in the upcoming week.
April 28, 2020
What are some best practices that I can use to support my child with their online learning?
There are many strategies to support routines for online learning out there but the most important ideas to keep in mind are to emphasize consistent routines and allowing opportunities for independent work.
Based on feedback from students, parents and staff, some ideas are listed below about how to best set up your child for learning at home. You may find some of these strategies to be more successful than others so it will take a bit of trial and error.
We've provided a checklist that you can download to keep in your house near the learning station you and your child have set up as an easy reference.
For parents:
Before class:
As best as you can, work to maintain a schedule to prepare for school (breakfast, any medications or items that your child uses when they attend foothills on a regular day

Help your child find a space that they can use daily, that allows you close some proximity if they need help

Keep a school schedule visible at your child's workspace, with the days and times of their online classes, but also times your family has set aside during the day for any work that may need to be completed

If they haven't built a scheduled reminder for themselves, you can support them by keeping the times in mind and highlight the times they remember while coaching them when their class time is approaching

Remind the student to follow the routines in preparing their device before the session (bathroom break, dressed for screentime, materials are out and available for reference, device has been charging since at least the morning or the night previous, charging cords are nearby/plugged in to prevent disruption, student is logged in to Zoom 10 minutes before the session with a list of a few questions about content that your child had when they were working through it.

Beverages are close at hand if needed. Snacks are left until after the session or are available but consideration is made about the noise related to wrapping/eating.
During Class:
Maintain a reasonable proximity between what you are doing and your child's lesson to allow them independence to participate as they would during a lesson held at the school. Let them know you are available and how/where to reach you if they need help with Zoom or following along.

Arrange a periodic check in mid class and at the end. Confirm your child is still participating, exits the meeting screen when finished and relays any homework expectations. Collect any questions your child may have to email the teacher about when time is available that day to confirm/clarify anything both of you may need to know you are on the right track.

Make sure that you allow your child the opportunity to attend with some autonomy during the lessons. They may encounter some unexpected situations or obstacles with the WiFi, hardware, expectations, or materials. It is a natural impulse for a parent to step in and advocate on behalf of their child. Instead, try to encourage and support your child to advocate for themselves through the online lessons on their own. Treat mistakes as feedback to try a different solution to a problem. Help and provide guidance on ways to do this will allow for more growth with routine and skills around your child's Executive Functioning.

Keep your email accessible for notifications in the instance that the teacher or homeroom needs to inform you of an absence, late or any other important information.
After Class:
Have non-screen dependent options during their break time (snacks/meals/utilizing the time to complete the daily physical education expectations set out by our wonderful PE teachers)

Have your child review any expectations for homework and confirm with the teacher's posting on their google classroom page and/or the homework board

Reconfirm the times that your family have set to complete any work needing to be completed outside of class time.

Have your child email the teacher and cc you in the conversation during school hours, if possible. Please make note that you may not receive a response until the next day.

If you and your child's teacher are noticing a pattern needing support, our Educational Assistants and teachers may be available to coordinate meetings with you and your child during school time either by phone or face to face online to support.
If my student needs to get in touch with their teacher, who do they contact and how?
For older students, they need to know who to contact when if they are going to miss a class or need to leave early.
Before class: students should contact their teacher
During class: for attendance related questions, students should email the teacher's EA. They can also contact the EA if they are having technical issues during the class. If the student has a question about the lesson, the student should type it in the chat section on Zoom
After class: if students need academic help after the lesson, they can reach out to their teacher through email.
April 14, 2020
TUTORIALS:
In a classroom setting, teachers and EA's spend part of the class time meeting with students on a one to one basis checking for understanding and offering assistance. The afternoon tutorials are designed to continue offering academic assistance and a chance just to chat just like you would in a classroom. Teachers and EA's have found this time to be important in order to stay connected with their students which is why tutorials are a mandatory part of the current programming.
MARKS:
The implementation of on-line learning during the last term and in such a quick and untested fashion may not set our students up for their maximum success. As instruction has adapted to this platform, assessment and mark calculation must change as well. Students will not be penalized for having to change to this new instruction model. We have completed approximately 70% of the year so their mark should reflect all the work that has been completed to date. Therefore, the students will be assessed at:
Terms 1 & 2 – 70%
This is the mark that they received on their February Progress Report, comprising all work and assessments completed. Weighting for the work will stay consistent to what was outlined when the courses began at the beginning of the year.
Term 3 – 30 %
The work completed this term will be calculated independently at 30%. This will comprise all work and assessments weighted similarly to what was structured before our online transition.
For students to find success in their course by June, they will be expected to attend all classes, tutorials and complete assignments.
FINAL EXAMS:
Alberta Education has cancelled PAT's and Diploma Exams therefore there will be no summative formal assessments during the course or Final Exams during Term 3. Our focus will be on the foundational and/or pre-requisite skills the students need to be successful in their next grade and course.
ELECTIVES:
Electives for Teams 2, 3, and 4 will begin on Friday April 17. Staff will be contacting their students with the information they need for their class. Elective classes for Team 2 are scheduled for 10:30 – 11:15 and for Team 3 & 4 from 9:30 – 10:15. Thank you for reminding your children about their electives.
April 6, 2020
1. What are the school's goals for this first week back from break?
Re-establishing relationships with students and checking in with families
Exploring opportunities for learning with the new schedule and troubleshooting any obstacles
Assisting students in understanding expectations for online learning
Transitions can be challenging for our students. The current unusual circumstances and new platform for learning may pose some unexpected obstacles for some. Our staff are aware of this and will ease students into the first week back for learning, while also continuing to challenge them with engaging activities related to their courses.
2. Will the school be using Zoom as a platform for class instruction?
Yes, for the time being. Having small class sizes and an Educational Assistant to support learning provides us an advantage in our monitoring of lesson participants. Our Tech team has done a great job to share ways in which teachers can prevent "Zoombombing". As we get more comfortable with this new norm, we will also begin to access the wide variety of resources that are available to better support our students such as Google Hangouts and Screencastify to name a couple. Zoom will be used for lessons, afternoon tutorials and small group work as well as one to one meetings for additional support and programming during student flexible times during the day. If there are any Zoom meetings outside of the schedule, families will be notified by the staff member working with your child through email.
3. Will there be assignments and exams? What will assessments look like with this new format?
Students will continue to receive assignments, homework and assessments. However, the way we enter and evaluate results in the class gradebooks for the year will need to look different. More information about this will be provided later in the week. Please know that our aim is to continue to recognize the hard work our students have made towards developing an understanding of the concepts that are being presented to them. If your child comes to class engaged and completes the activities set out by staff based on the expectations outlined in Alberta Education's programs of study, your child will continue to be successful.
4. If children or parents have questions, when and who do we reach out to?
To allow for both staff, students and their respective families time to adjust and find balance during a difficult time, we are asking that we respect the need to prioritize time with our loved ones during the evenings. Please restrict communication with teachers and Educational Assistants to our school hours (8:00 am to 4:00 pm). As teaching staff are working hard to modify their lessons to fit with this new format, we appreciate your patience. Please understand if we may need to respond the following day to questions and concerns you have. Families are encouraged to address any absences, assignments and homeroom-type questions with the respective teaching staff.
5. What is the best way to stay on top of school updates?
We will continue to send our ENews each Tuesday afternoon. Families can also go to our website to access a chronological list of messages we've sent and access to the resources we've shared in the past. If you have any questions around the school program or if there is a situation that has arisen impacting your child or family that requires immediate attention, you are welcome to contact both Kim and Sean by email.
6. What is the etiquette for students using the online learning system?