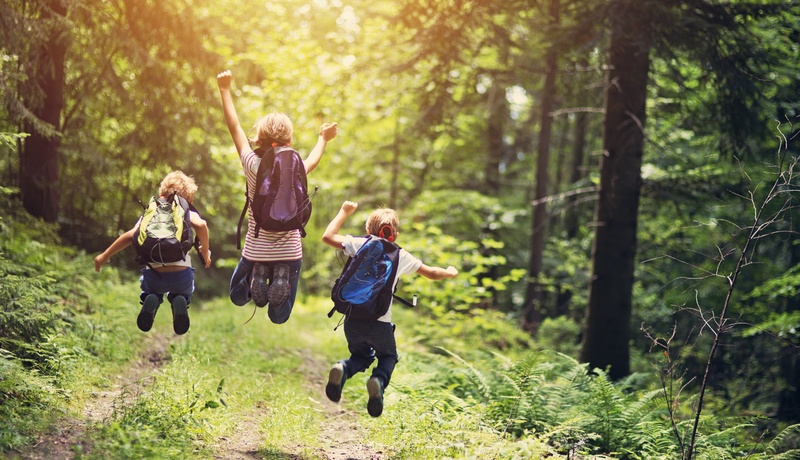 Well … we have made it to the end of the school year! No doubt you are looking forward to enjoying some of your favourite summer activities as a family.  While the summertime looks different for everyone, we ideally want to capitalize on the warmer weather and more flexible schedules, in order to infuse our lives with restorative things such as rest, laughter, nature, and connection.
A few months ago we suddenly found ourselves in an extended period of change and uncertainty, which is still continuing to evolve. We have all been impacted to various degrees and in a wide variety of ways. Our summer may not look exactly the way that we had hoped - yet as the world slowly begins to open up again, so do our options. Here are two commonly asked questions as we head into the summer.
Q. Should I be working on academics with my child this summer?
A. Yes and no. More than ever, we want to ensure that kids and families have an opportunity to just exhale. Take advantage of your child having a lighter schedule and give them a break from their usual school routines - find lots of opportunity for downtime, silliness, and impromptu adventures. However, there are still lots of ways to imbed learning into everyday life, and keep up their skills and confidence over the summer:
Build in reading times

Help your child choose something they are interested in reading (Read: summer reading lists).
Set a family reading time where everyone puts away electronics and reads a book in the living room for a set period of time. Even if there is initial resistance, consistency is your friend. When the expectation is consistent over time, kids will begin to expect (and accept) it.
Have siblings and/or parents taking turns reading to each other.
Put electronics away at bedtime, but lights can stay on for reading.


Play games together

There are lots of fun family games that support vocabulary (such as Apples to Apples; Taboo; and Scrabble), and math (Monopoly; Blockus; Yahtzee; and Backgammon).


Get their help in making decisions

Do you need to replace an appliance, or make another large purchase? Involve them in researching the options, comparing costs, and reading reviews to foster their critical thinking skills.


Open up stimulating conversations
Slowly build confidence for the Fall

Set-up your child with rewarding online activities (such as Reflex Math; Dragon Blocks; or RazKids) so they can practice skills in a fun way. And, take a look at these learning apps and games.
Check out these online opportunities for literacy and/or math support: Foothills Academy's Read/Write summer programs
Q. How do we support our mental wellness over the summer?
A. While we are often able to loosen up our schedules in July and August, we also need to recognize that sliding into bad habits over the summer can actually increase the obstacles we face in the fall. Some structure is still needed. Healthy habits, including regular sleep schedules and balanced meals, are an important part of wellness. Family expectations and rituals (such as game nights) bring a sense of safety and security, even for teens who may balk at them the most.
It is also important not to lose sight of our overarching goals for our child or adolescent. Depending on your goals, here are some things to consider when making plans for the summer:
Build healthy sleep habits – requires a commitment to a plan, and some new strategies. Try this free app Relax Melodies

Making connections and Improving social skills - requires opportunities to practice interacting with peers, as well as explicit coaching support from adults (help your child's social skills). And, check out Camp Amicus

Practice relaxing – summertime is a great opportunity to build self-regulation skills, we don't want to wait until we are busy again to start working on these skills. Try this free app Dreamy Kid and for older kids or adults, try MyLife Meditation.

Fighting anxiety and depression – requires challenging our negative thoughts, and making our world larger. How can you challenge your child to try new things and not just stay in their comfort zone all summer? And, take a look at these mobile tools to promote mental wellness

Building self-confidence and self-esteem – requires finding opportunities to learn and practice new skills, as well as the opportunity to get positive recognition for their efforts.

Preparing for the transition into adulthood – involves increasing choice and responsibility. As well as capitalizing on opportunities to add new skills to their repertoire (such as making a meal, learning how to take public transit, or tackling a home improvement project with a parent).

Maintaining academic skills – as per the Q&A above!
A Recipe for Worry & Sadness

A Recipe for Mental Wellness

Stay up all night on electronics and sleep most of the day
Don't have regularly scheduled family time
Spend time planning for the worst
Don't get any type of exercise
Don't do anything that challenges you
Don't spend time with others
Stay indoors all the time
Neglect eating healthy meals

Make time for self-care
Reach out to old friends
Find ways to meet new people
Get up and move regularly
Embrace nature, and enjoy some outdoor time every day
Keep family routines and rituals
Try something new
Build a skill through practice
Help someone else
Prioritize getting to sleep at a regular time that allows for enough sleep
Drink water and eat balanced meals
And don't forget to offer choice. For example, "tell me one thing that you are going to do today to connect with someone, and one thing you are going to do to get exercise".
Ultimately we want our kids to return to school in September (whatever that looks like) feeling happy, relaxed, and confident. While the exact path may be different for every family, the overall goal this summer should be balance.