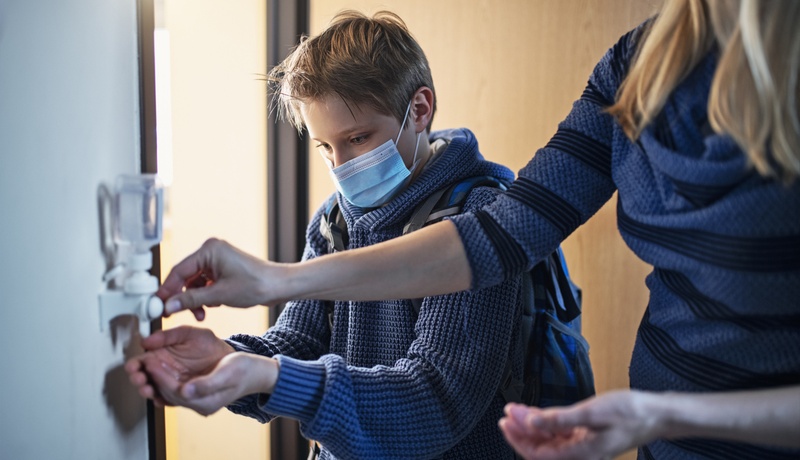 The COVID-19 School Re-Entry Protocols has been updated on August 26th. Additionally, a summary sheet has been provided for parents to use each day with their student. A new Parent/Student Handbook is also available.
When at school, students will be required to follow the school COVID-19 protocols (See Re-entry protocol manual).
These include:
All students will enter the school through their designated cohort entrance. Students must clean their hands when entering the building, and sanitizing stations are located at every entranceway.
Hand sanitizer stations are set up for students and staff to clean their hands whenever entering or leaving the classroom.
All students will be required to physically distance whenever, and wherever possible.
Masks must be worn at all times in common areas in the school building.
Students can remove their masks in class only when they can physically distance unless other circumstances dictate otherwise.
Teachers are allowed to remove their masks in the classroom when teaching and require to be physically distanced from students when doing so.
Students are allowed to the washroom one at a time (with the laminated, sanitized hall-pass system). All students will be required to wash or sanitize their hands in the washroom.
At lunchtime, physical distancing will be maintained. There will be no sharing of food. • No students in Cohorts 1 or 2 will be allowed off-grounds at this time.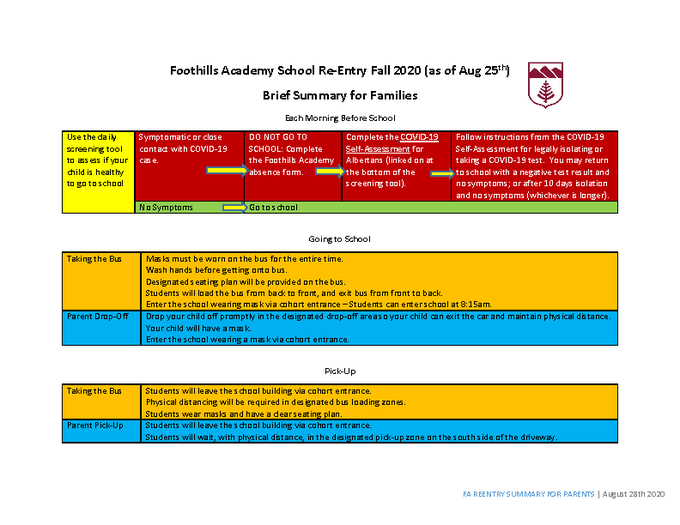 An electronic absence form will be used for all parents to report a child's absence from school.
This form is for any absence, and it helps Foothills Academy to closely track and monitor student illness and COVID-19 symptoms throughout the school. Click here for the link to the absence form. You may want to save the link to the home screen of your phone or device for easy access. Please contact the front desk if you are unable to use a phone or device to access the link.