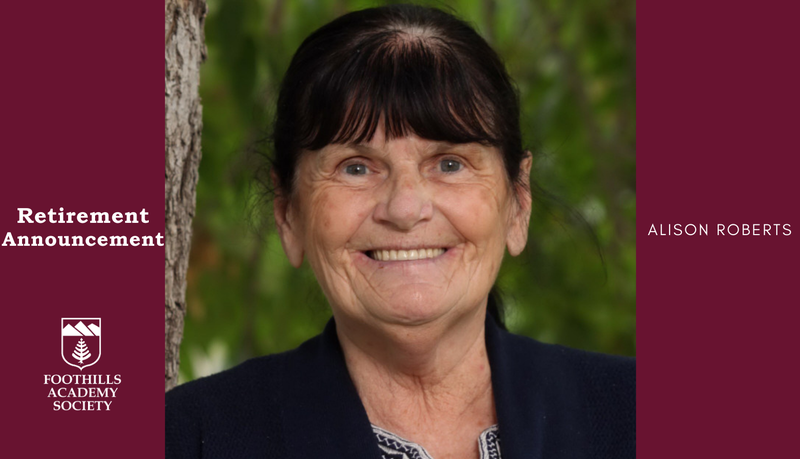 It is with a heavy heart as well as an inordinate amount of gratitude and respect that we announce the retirement of Alison Roberts.  Alison is retiring with immediate effect so that she can focus on some current medical issues and regain good health.
Alison has been a teacher at Foothills Academy since year one when we began in 1979 as a small school of 33 students in Capitol Hill. Alison has watched the graduation of 40 Foothills classes over the years and has invested her heart and soul into all who passed through her students. She has been an incredible staff member who cares so much for others, and who managed to support students in so many ways. Beyond consistently achieving hugely successful Diploma exam results with her high-school classes, Alison would also often go out of her way to commit time to students beyond class hours.
There is no doubt that Alison's presence around the school will be missed greatly by students and staff alike. Her positive and calm demeanour regularly assured and supported students so that they could do their best to be as successful as possible. Alison has made lasting connections at Foothills and leaves so many wonderful memories.
When Alison's health improves, she is looking forward to coming back to say a proper good-bye to the students, and we will also find a way under the current COVID restrictions to recognize and celebrate her illustrious career.
In the meantime, we wish Alison the most relaxing and deserved retirement, as she is truly a living legend of Foothills Academy.
If any of you would like to forward messages of congratulations or fond memories of Alison, go to this link to fill in your comments about this once-in-a-lifetime teacher.
Additionally, we are happy to announce that we have been fortunate enough to have Justine Tarkowskistep into the high-school English teacher position for the remainder of the year. Justine is a registered teacher who has been working side-by-side with Alison in the classroom, and so she is able to provide as smooth a transition as possible for all of the students