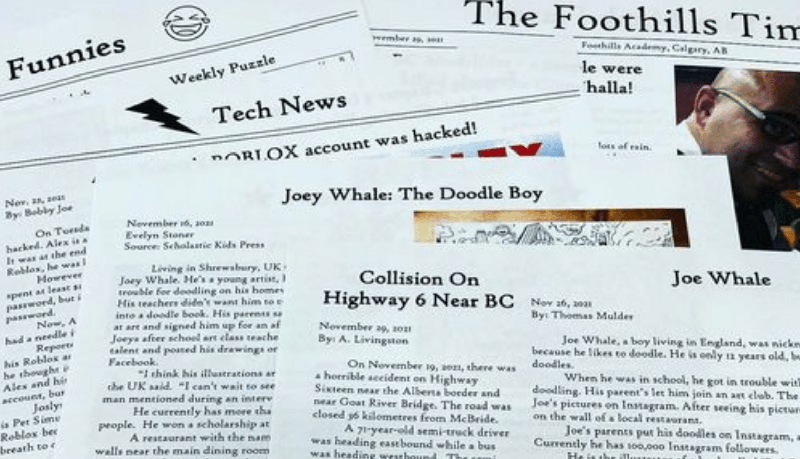 Grade 6 students are marvellous storytellers.  Not a day goes by without one of them telling a tale of one adventure or another!  Their teachers, Mrs. Henze, Ms. Merrick, Mrs. Hughes, and Ms. Goldberg are often left in stitches as they add colour with their detailed description and enlightening point of view. When it comes to writing, there is no shortage of inspiration - whether they are regaling each of us with information about their weekend adventures, or informing us of the goings-on in the world.  Their finger is on the pulse of what is happening, now!.  Each one of the twenty-seven students has a unique point-of-view and a vast array of interests.
When challenged to write with the voice of a news reporter, Grade 6 students had to step outside of themselves, for a bit. They had to take the point-of-view of a journalist, leaving behind their habit to share their opinions. They had to do some research, bringing together ideas from local and national news sources. They found sources in newspapers, and those shared via television and radio networks. Students had a checklist of requirements, as well. They had to be sure their stories covered the '5 W's and that their tone of writing would appeal to an audience of their peers.
The best way to test this claim was to gather feedback from their classmates. Each student engaged in at least two cycles of feedback from other grade 6 students, before they published their final news articles. They paid compliments to one another, and offered some notes to one another, to consider revisions. Every student benefited from these meetings. It was an awesome opportunity to articulate the amazing qualities that they could see in each other's work. When we were through composing our articles, we put them all together in a published form. The first issue of The Foothills Times was released, as a keepsake, of their hard work.
We will continue writing news articles, throughout the year, reflecting current events. Our hope is to always improve - and - as the news changes - keep our community up-to-speed on the goings-on in the world.