Resources on this page
The Foothills Academy Parents Association holds a raffle every year to support the Bursary Fund at Foothills Academy. Parents and staff sell raffle tickets from June until October. Approximately $100,000 is raised each year to support children with Learning Disabilities through these efforts.
Tickets are available for sale from Foothills Academy parents and staff and at venues throughout the city on weekends from May until early October. Additionally, tickets can be purchased directly from the reception desk at Foothills Academy during regular business hours until November 16th.
Learn more about the car raffle in this segment by Gil Tucker on Global Calgary shown on September 19, 2019.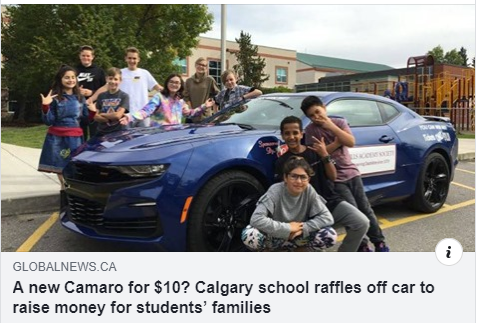 Here's a look at our 2019 Raffle Car Raffle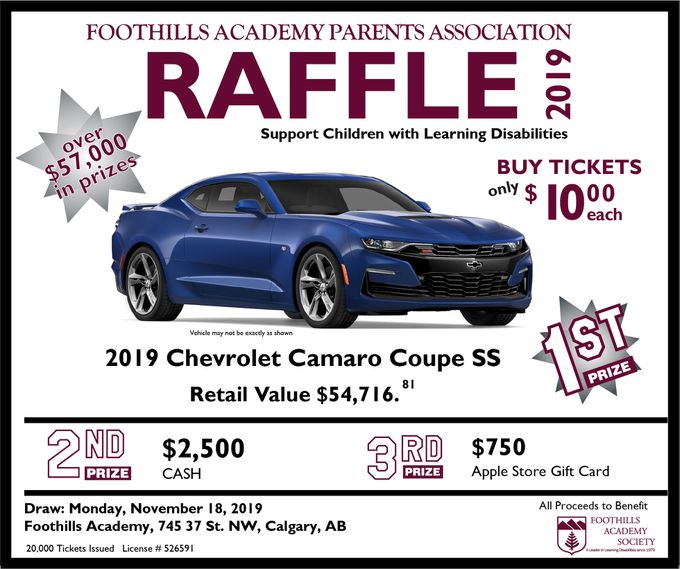 Tickets Are Available Now!
If you are wondering where you can find our volunteer ticket sellers, check our calendar of upcoming sale dates and locations.
If you wish to purchase $50 or more and are in Alberta, contact us and we will send the tickets to you!
The draw will take place at Foothills Academy on Monday, November 18, 2019.
Please note that tickets #10991 - 11000 have been lost and will not be part of the 2019 raffle.
Thank you to Jack Carter for supporting Foothills Academy Society through the FAPA Car Raffle.