Foothills Academy school was built around the belief that all students with Learning Disabilities have exceptional potential, and that with the right supports and guidance, they can achieve great success in school, post-secondary, and the workplace. We understand the difficulties and challenges facing students and their families, be it academic, social, emotional or financial. Foothills Academy's community builds upon these foundations within our students and their families. Our philosophical approach is to:
Find Understanding
Build Confidence
Maximize Potential
Much of our school success is found in our school-wide philosophical belief in, and understanding of, Self-Determination Theory, which has three core values.
Building strong RELATIONSHIPS with students to really understand each individual's strengths and interests (finding understanding)
Ensuring that students feel a sense of COMPETENCE at school, to develop their confidence and self-belief that they can be the incredible people who they know they really are (build confidence)
Providing a sense of AUTONOMY in the classroom, so that students feel connected to their learning, and have a voice in their education; which allows students the freedom to thrive and maximize their potential (maximize potential)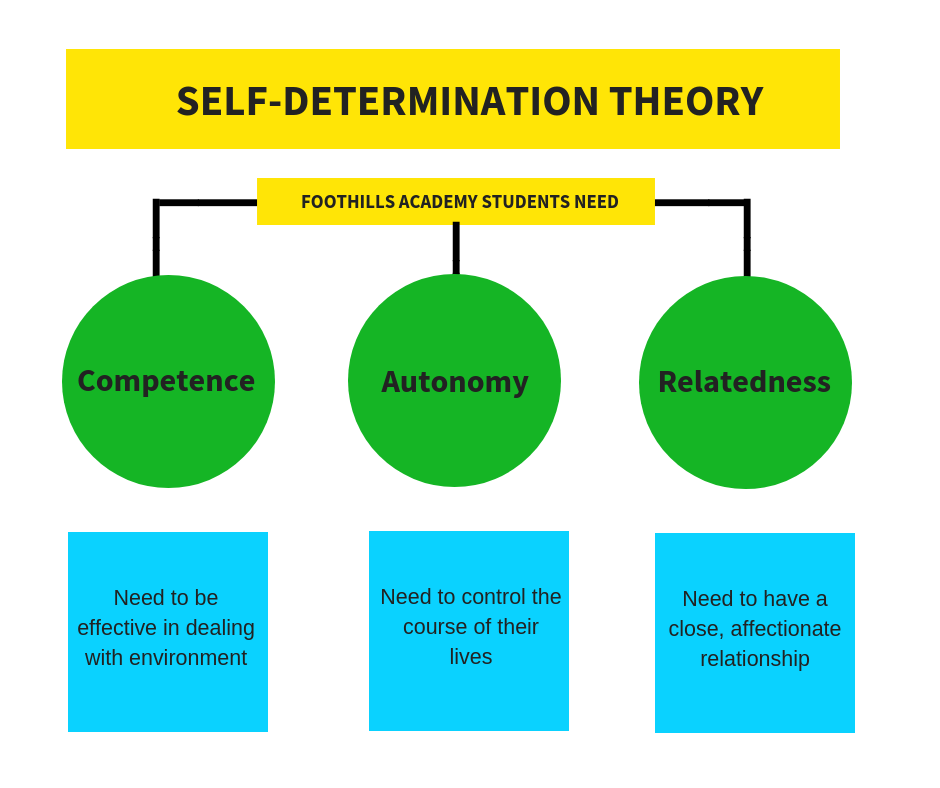 Many students with Learning Disabilities have faced adversity, failure and disappointment in previous schools and they may arrive at Foothills with low levels of motivation, self-esteem, and increased anxiety. By rooting our program in Self-Determination Theory, staff create a positive environment in which students with Learning Disabilities can learn. Effective teaching of evidence-based programs and strategies address each individual student's learning needs. With the right approach to teaching and learning, Self-Determination Theory enhances each students' sense of self and motivation allowing students to leave Foothills Academy as lifelong learners with a strong sense of intrinsic motivation for success.
Find Understanding (relationships)
Staff build strong relationships with students so that we truly understand individual needs. Only by understanding each student can we help them learn and flourish into the tremendous young individuals we know they are. Understanding each student requires time and commitment from staff as we build personalized learning plans (IPPs) for each student. It also requires the staff to be well trained in understanding the wide-ranging and specific needs of students with Learning Disabilities.
By understanding each student, we are also able to support their "islands of competence" by building important, self-esteem building activities and opportunities to explore the students' interests into the school day. Staff also gather a comprehensive understanding of student learning and develop a wide range of ways for effective teaching to support student learning. External supports to the classroom also complement this as we have an on-site group of counselling staff to support students as well as assessment psychologists who help with the development and implementation of specific evidence-based programs and assessments for the students.
Build Confidence (competence)
Success comes when students are given appropriate learning based on their needs. Each staff member uses multiple teaching strategies so that all students are engaged and have the greatest opportunities to thrive and feel good about their learning. Staff use assessment tools to determine specific student learning needs. Students come to us with varying levels of deficits in knowledge and skills such as reading, writing, math and organization. We use strategies to increase these skills toward grade level. At the same time, we focus on a strengths-based approach to identify areas where students can thrive. We use these strengths to allow students to access, analyze and present information in different formats allowing students to access the grade-level curriculum. Depending on the needs of the student, Assistive Technology can be one of the tools used.
Maximize Potential (autonomy)
All of our students are bright, capable individuals. In order to maximize student potential, we offer the full range of Alberta Education academic courses allowing our students to achieve success at the highest level they are able. All students must be provided with a sense of autonomy so that they have a voice in their learning. Staff support students to develop the skills to advocate for their needs so that learning is owned by the students. With additional supports and strategies delivered by staff, students are provided with structured autonomy which sets the path for maximizing the amazing potential in every student we serve.
Amazing School Amazing Staff. You gave our son the confidence that he needs, the guidance that he needed to succeed. You all went above and beyond.