About Foothills
Our History
The impact of Gordon, Tom, Beth and Bill cannot be understated. Their vision to ensure that no child or family would be turned away due to financial need remains a core value of Foothills Academy.
Foothills Academy was born of the frustration experienced by Bill and Beth Mackasey as their search for an appropriate academic setting for their son, Patrick, proved futile. In 1975, knowing how capable their son was yet recognizing how little special educational programming was available for Patrick to be successful, the Mackaseys' approached Mr. Tom Aylesworth and Mr. Gordon Bullivant, who were professionals working with special needs students, for support.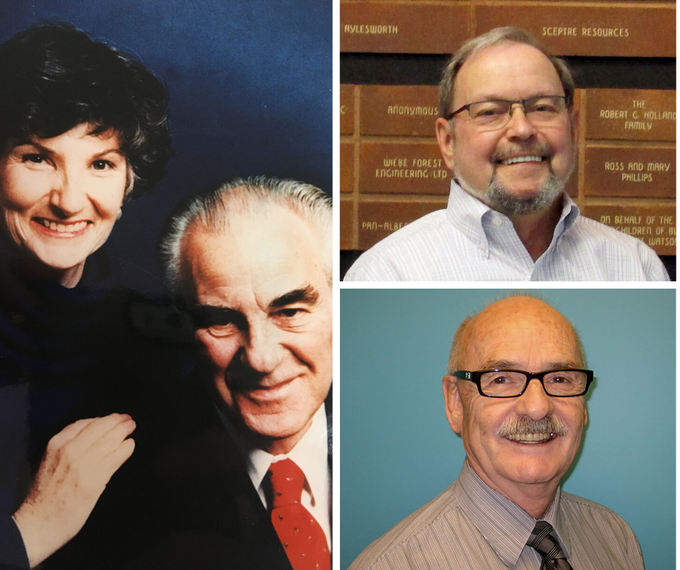 Over the next two years, from 1975 to 1977, a major research project documented the services available in Calgary and across North America and concluded there to be a need for a private school specializing in supporting students with Learning Disabilities. The report was accepted by the Learning Disabilities Association of Alberta – Calgary Chapter, however, a consortium of stakeholders including the two public boards, felt a research centre would be sufficient and would not endorse the segregated school project. Undaunted, Mr. and Mrs. Mackasey, Tom, and Gordon decided to continue to pursue the idea of a segregated school and formed a society whose purpose would be to start a private, non-profit school and centre. Financial support was sought from the community and in September of 1979, the first 33 students began their school year at Foothills Academy, located in the old St. Pius School in Capitol Hill.
For the next 35 years (1979 – 2015) Foothills Academy thrived with Tom Aylesworth as the Business Administrator, and Gordon Bullivant as the Executive Director. In 1980 Foothills Academy became a Registered Charity. The current centre was built in Parkdale in 1990, and with a burgeoning student population, it expanded in 2012 to accommodate 290 school students. The expansion also provided a larger space for the Community Services offerings; facilitating significant growth in the ability to provide psychological and educational supports to individuals and families whether or not they attend school at Foothills Academy. In 2013 the Learning Disabilities Association of Alberta – Calgary Chapter was absorbed into Foothills Academy, bringing with it the Let's Be Social program and Camp Amicus.
In June 2015 the Board of Governors chose a new Co-Executive Director governance model to oversee the School and Community Services and appointed Mr. Simon Williams and Dr. Karen MacMillan into these roles. Together, with their respective backgrounds in education and psychology, Simon and Karen have forged on; strengthening the expertise within Foothills Academy in alignment with the original Founders' vision. They have also expanded the services offered to families in the community; increased the educational opportunities for educators across Canada; and renewed partnerships and the leadership of Foothills Academy in the LD/ADHD community.
For more than 40 years, the drive to ensure that no child or family would be turned away due to financial need has remained a core value of Foothills Academy. The commitment and dedication of the Foothills Academy staff members, the Board of Governors, and numerous supporters in the Calgary community over the past four decades have had a profound positive impact on thousands of young people and their families.