Assistive Technology is a common part of life at school and in the workplace, and students who require specialized assistive technology receive not just the equipment, but the training and coaching to use it effectively.
Assistive Technology bridges the gap for many students to learn, instead of struggling with tasks that are getting in the way of learning.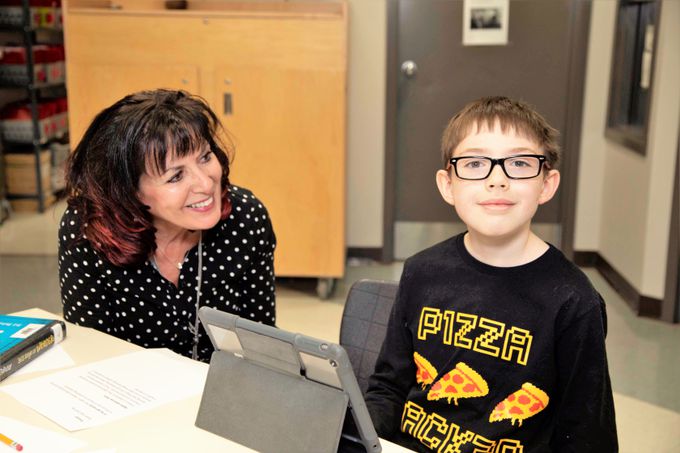 Not only are Assistive Technologies helpful in completing day to day work but many are approved accommodations for writing Provincial and Diploma exams and may continue to be used within the Post-Secondary environment.

Foothills has a full-time Assistive Technology Specialist. The specialist's role is to provide students with technology as well as provide training and follow-up support throughout the year. This role also involves staying aware of the ever-changing technology available.
For younger students, using Assistive Technology can provide a bridge to access grade-level curriculum as they also work on developing required skills for tasks. For older students, they may use Assistive Technology as a regular tool as it will most likely be something they use after High School at college, university or in the workplace.
Depending on their specific needs, students can receive Assistive Technologies such as:
Speech to Text such as Dragon Naturally Speaking, Dragon Dictate and Voice Typing convert student's spoken word increasing productivity and helping those students that struggle with the writing process.
Text to Speech such as Read&Write convert digital text into spoken words.
SmartPens are used to record teacher lectures; helpful to students that struggle to listen and write notes at the same time.
Scanning pens are used to read aloud worksheets, textbooks and novel studies giving students (especially students with dyslexia) greater independence.
Rocket notebooks are used by students to help them keep their written notes organized in the cloud.
Various math apps are used to help students struggling to take math notes and keep them organized and legible.