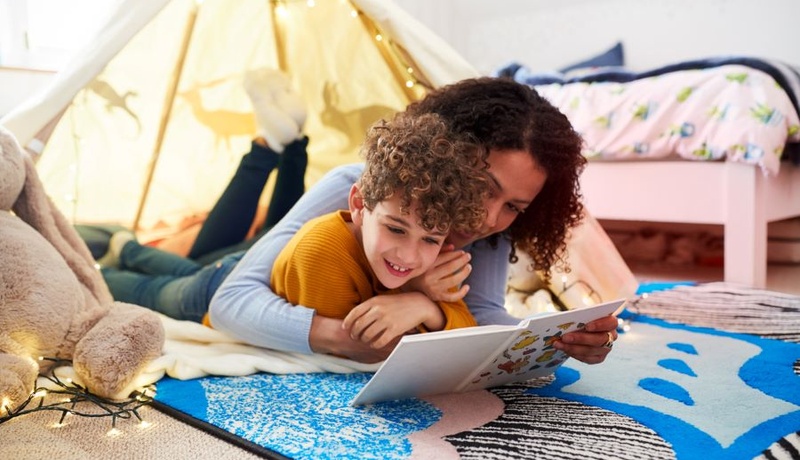 Select material of interest to your child. This can be a book from a bookstore or the library...the choosing of the book can be part of the fun associated with reading. Also consider magazines, newspaper articles or any printed material...fiction, non-fiction, poetry... Letting children help pick what they read gives them ownership of the activity, which will inspire more involvement.
As well as having the child read to the parent, have the parents read to the child. This can involve higher level reading material involving vocabulary that can be discussed, explained and researched.
When the child is reading, have him/her track as they read, reading through each sound in unfamiliar words rather than guessing the word.
Have the child tell what they 'see' as they read. Stop after a sentence or paragraph and have them describe what is happening. If they can picture what is happening then they are understanding what they are reading. Encourage 'visualizing' after a description. ("Close your eyes and try to see it.")
At the end of a chapter ask "what will happen next"? Making predictions will help determine if the child is following the action or meaning of the story.
Collect unfamiliar words and practice these at the beginning of each reading session. This will help build the child's sight word bank and increase the child's vocabulary.
Read using punctuation...stop at periods, pause slightly at commas. This will help to make sense of the text.
Teach the use of clues to the content...title, chapter summaries, pictures, and what went before. Ask questions as you read...reflect on what is happening, discuss your feelings about characters and events in the story.
Choose a special reading space that is quiet and cozy. Perhaps keep books near this place and create your own library.
Reading not only serves to inform but it is also a place to develop new friends and experience adventures.