Grades 3 – 6 (Team 1)
Foothills Academy offers elementary students in grades 3-6 the opportunity to be the very best learner they can be for the 21st Century. Our specially trained teachers bring expertise to the classroom to focus upon each student's learning needs.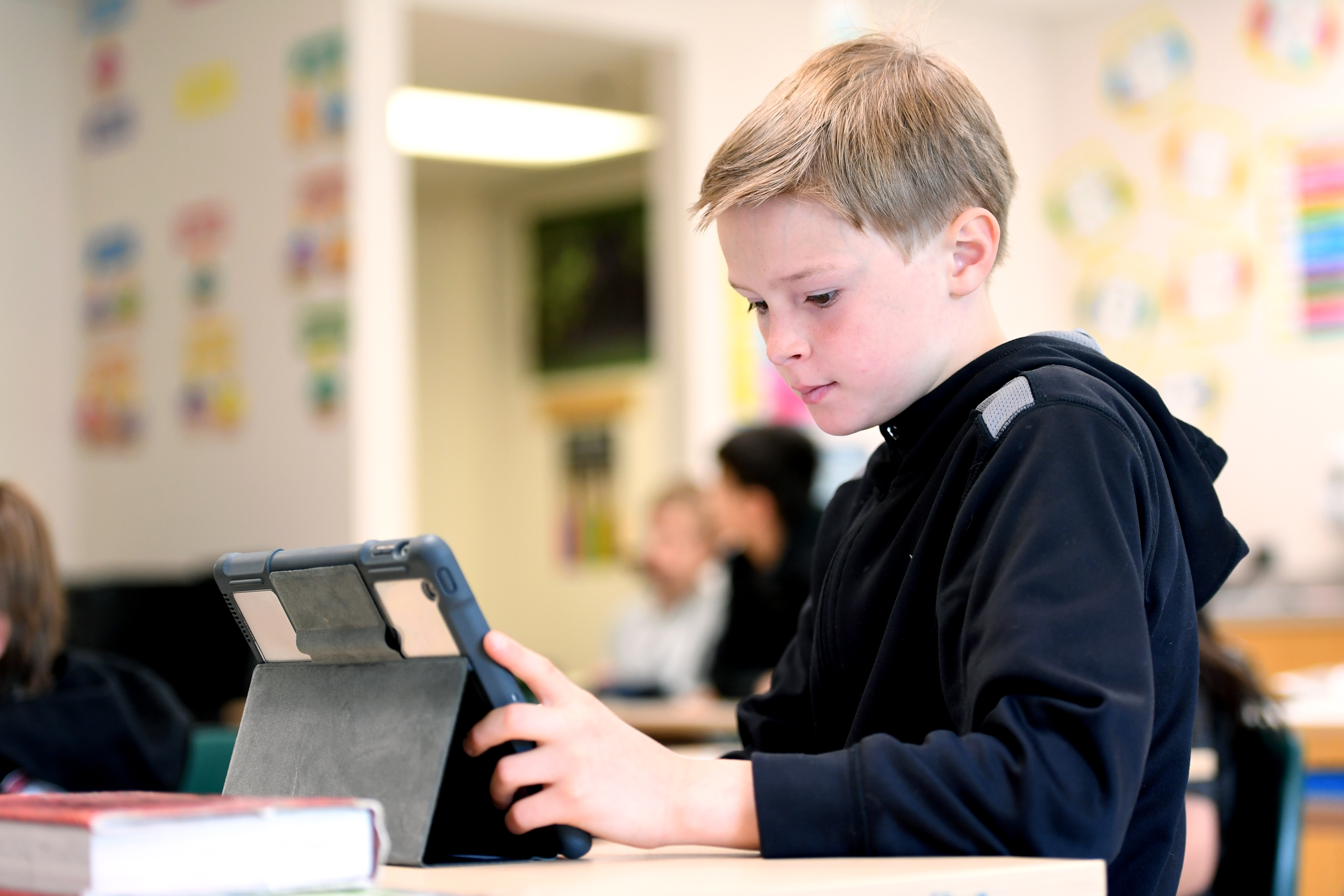 In Team One, core courses are taught by separate Language Arts/Social Studies and Mathematics/Science teachers with support from Educational Assistants. We follow the Alberta Curriculum and use academic interventions so that the curriculum is accessible for all students.
Every student in Team 1 has an iPad to use for research, writing and in order to access and use assistive technology tools available.
In Language Arts, we use a Structured Literacy approach, including Wilson Reading that is aligned with the Orton-Gillingham principles of instruction and the Science of Reading and focuses on phonological and morphological awareness (word attack skills and word recognition skills); syntax (how words are used); and developing comprehension (semantics).
The International Dyslexia Association recognizes a number of approaches and programs that meet the standards of Structured Literacy.
"Structured Literacy™ does not involve just one particular program or method. In fact, many well-known intervention programs, methods, and approaches fall under the umbrella of Structured Literacy™, such as the Wilson Reading System (Wilson, 1988), the Orton-Gillingham method (Gillingham & Stillman, 2014), the Lindamood Phoneme Sequencing Program (LiPS; Lindamood & Lindamood, 1998), and Direct Instruction (e.g., Carnine, Silbert, Kame'enui, & Tarver, 2009), as well as several other approaches (e.g., Birsh & Carreker, 2019)."

from page 7 of IDA's Structured Literacy: An introductory guide
In Mathematics we use a variety of programs, including Jump Math; with a focus on building foundational skills, number sense, pattern recognition, fluency and computational skills.
Students are further supported with a daily Skills class which provides additional academic instruction on Reading, Writing and Math. Skills classes use research-based, targeted programs, strategies and approaches intentionally delivered by expert, caring instructors.
It is important for us to focus on each student's social and emotional needs. We employ programs such as Social Thinking, and Zones of Regulation providing supports for resiliency, developing self-awareness, and a range of self-regulation tools.
In addition to the expert teaching staff we have in the classrooms, students have access to extra supports to enhance and maximize their learning potential. Educational Assistants, Assistive Technology and IPPs are available to and benefit all students. For those who require more, specialized support, we have additional Assistive Technology, Psychologists and Occupational Therapy and Speech-Language Therapy.
Positive Recognition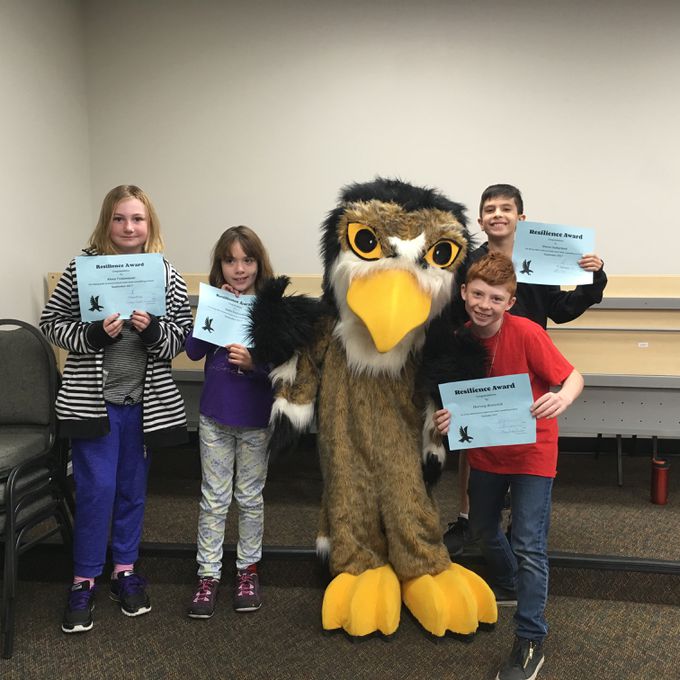 The positive environment at Foothills builds upon student's successes and strengths. Various learning strategies are explored and implemented to support each child's abilities. Our students strive to be the best they can be, which is recognized through various monthly positive reinforcement programs like Echo Awards, Head of the Class, Bubble Gum Machine, and Super Kids and House Points.
Library & Learning Commons
At Foothills Academy the library/ learning commons offers students a welcoming space in which knowledge is expanded, daily classes are held, and students find refuge, and collaboration occurs on all levels. There is a full-time librarian to assist students and staff in selecting items from the vast physical and digital collection.
Physical Education
Through Physical Education we empower students with knowledge and skills to live a healthy lifestyle as students learn about the benefits of exercise and playing games to encourage a lifelong goal for health and wellness. We expose students to a wide variety of sports, physical activities and different methods of fitness. Together this can provide enjoyment of physical activity, as well as build social, psychomotor, and cognitive skills. Life skills are coached daily within team sports, individual sports, small group work and whole class activities. Respect, integrity, sportsmanship,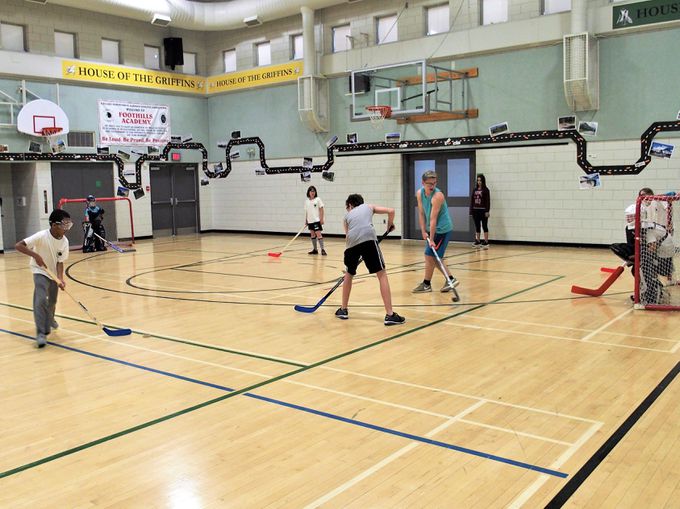 teamwork, communication and leadership are just some of the skills, recognized, encouraged and taught.

In grades three to six, activities taught are varied and fun as students work together as willing and active participants committed to trying their best. Games from Rock, Paper, Scissors, Showdown to Quidditch, and Omnikin Ball games to Space Invaders add an element of fun, variety and competition. During the activities and games, students receive coaching on spatial awareness, body mechanics and safety. Physical literacy, the mastering of fundamental movement skill and sports skills is a common thread interwoven throughout all lessons. Our off-site swimming program adds to the students' skills for life.
Since coming to Foothills Academy, I am able to read chapter books now!