Amicus Recreation Programs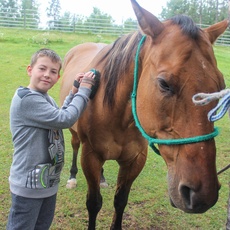 Horsemanship Program
Learn social skills interacting with horses (Gr. 5 - 9)
(Program will be run in September and October for a 4-week program) Horses are herd animals, just like us; they need to pay attention to others' cues to see how they should act and respond. This is the basis of our horsemanship program. Working with the Homeplace Ranch, who have over 40 years of horsemanship experience, we have developed a unique program to use horses to teach our campers about social skills. Campers will ride horses in this program and brush, groom, lead, and saddle the horses.
Horsemanship 2 is for participants who have completed Horsemanship 1, our summer camp horsemanship program or have significant horse experience.
Details for FALL 2023:
Program Details:
Horsemanship 1 - Grades 5 - 8 (no experience required)

Horsemanship 2 - Grades 6 - 9 (participants must have been in our horsemanship (Recreation or camp) program or have significant horse program experience)
Families are responsible for their own transportation out to Homeplace Ranch in Priddis, AB (directions).
**Please be aware that with any Amicus Recreation program, we require a minimum number of registrants in order to run the program. In the event of program cancellation due to low registration, Amicus Recreation will notify families with a minimum of 1 week's notice and issue full refunds for anyone registered.
Intake Information:
If your child has not participated in an Amicus or social skills program through Foothills Academy before, you must complete an intake process prior to registration. Full details about our Intake Criteria and Intake Process can be found here.