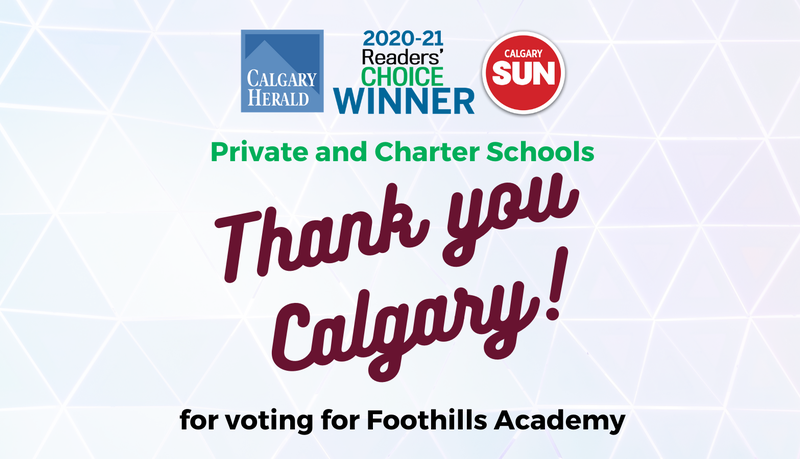 In 2020, the readers of the Calgary Herald and the Calgary Sun voted Foothills Academy one of the top 3 Private/Charters schools in Calgary.
Since 1979, Foothills Academy has filled a need in educational support for children with learning disabilities.
This work has been recognized by readers of the Calgary Herald and Calgary Sun, who helped vote Foothills Academy a Winner in the Readers' Choice Awards category for Charter/Private Schools.
"Every student with a learning disability has exceptional potential and, with the right support and guidance, can be exceptional in school, post-secondary and the workplace," says Simon Williams, executive co-director of the school, which serves some 300 students from grades 3 to 12.
"Kids and families come here because they need extra support. And we don't turn families away because of their financial circumstances. We do a lot of fundraising to make sure we have a strong bursary program."
Being a private school, Foothills has the flexibility to develop programming that offers high-quality education for children with learning disabilities who might also have other challenges such as ADHD and anxiety.
Foothills responded to COVID-19 by transferring to online learning, but with safety protocols and already-modest class sizes, it is again welcoming students who are embracing in-person learning. "There was such enthusiasm by the kids to come back," Williams says.
"We are honoured with the Readers' Choice recognition of all the efforts of Foothills administration, staff, volunteers and stakeholders.
"We're incredibly proud of the great success and achievements of all our students. We typically have close to 100 per cent graduate with the vast majority going on to post-secondary. We are filling a really important need and changing the trajectory of the lives of so many kids and families."