Amicus Recreation Programs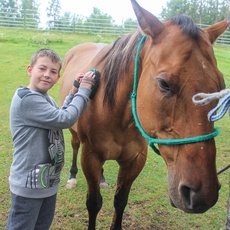 Horsemanship Program
Learn social skills interacting with horses (Gr. 5 - 9)
In-Person Program
Afternoon Group - Horsemanship 2
Saturdays - If any day needs to be cancelled due to weather, a class will be added on Oct.16, 2021 Gr. 6 - 9 Previous experience required
Resources on this page
Horses are herd animals and just like humans, they need to pay attention to others' cues to see how they should act and respond.
Working with the Homeplace Ranch, who have over 40 years of horsemanship experience we have developed a unique program to use horses to teach our campers about the ins and outs of social skills. Participants will ride horses in this program, as well as brush, groom, lead, and saddle the horses.
Quick Details:
Grades: 5 to 9
Location: Homeplace Ranch, Priddis
Fee: $600
Program Details:
Morning program - no experience required
Afternoon program - participants must have been in our horsemanship (Recreation or camp) program or have significant horse program experience
Families are responsible for their own transportation out to Homeplace Ranch in Priddis, AB (directions).
Intake Information:
If your child has not participated in an Amicus or social skills program through Foothills Academy before, a Parent Intake Form must be completed. To begin the intake process, contact the Community Services Intake Assistant at 403-270-9400 ext. 252 or download the Parent Intake Form and send it in.