Adult Group Programs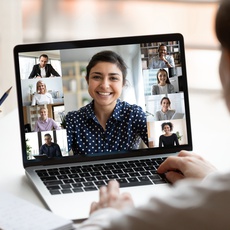 Parent Online Support Groups
Parenting Kids with LD and ADHD: A Parent Education and Support Group
Parent education and support group specifically for Parents/Guardians of children and youth with Learning Disabilities and ADHD
Resources on this page
When parents are told that their child has been diagnosed with a Learning Disability (LD), like Dyslexia, the immediate concern is usually how this will affect their child's academic progress. But, Learning Disabilities affect much more than just academics. Most parents are not prepared for the amount of social, emotional and behavioural issues their child may experience.
This winter, we are offering two Parent Support Groups specifically for parents or guardians of children and youth diagnosed with a Learning Disability or ADHD. These online and facilitated six-week programs are built to support parents/guardians in understanding these topics and to learn from each other. Each session will be 1.5 hours in length with the first portion providing a presentation on a weekly topic followed by facilitated group discussion regarding how to bring these ideas into your home. These programs will be run by our Provisional Psychologists.
Who Can Register
Parents/guardians who have one or more child or youth (6 - 18) who has been diagnosed by a psychologist with a Specific Learning Disorder (Reading, Writing and/or Math) or Learning Disability (LD) or ADHD. The group size will be limited to 12 participants.
When
Tuesday nights from 6:30-8:00 pm
January 26 - March 2, 2021
Where
These groups will be held online through Zoom.
Cost
$120 for the six-week program. The cost may be claimed as psychological fees on many private benefit packages
Two Groups to Choose From
Group 1 – Supporting My Child with Managing Emotions and Behaviours
Everyone experiences big feelings and children are no exception. Sometimes these big feelings translate into behaviours that leave parents wondering what to do next. How can we best support our children as they navigate the ups and downs of their emotions and demonstrate them in more positive, productive ways?
Group 2 – Overcoming Worries: Supporting My Child with Anxiety - Cancelled - Inquire about future dates
Given the world we live in; anxiety seems to lurk around every corner! Everyone experiences anxieties but at varying degrees. But, what exactly is anxiety and how does it differ from normal worries? How can I help my child handle those worries – especially when they are excessive?
Registration Process
Download the registration package and return to Anna at intake@foothillsacademy.org.